Giveaways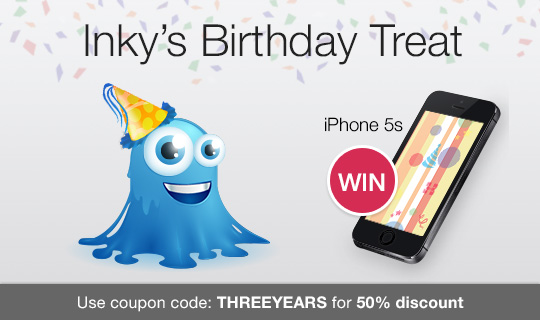 InkyDeals its the place to go if you want to buy premium resources at unbeatable prices, whether youre a graphic or web designer, developer, or business owner looking to improve yourself and your work.
A Big Cheers to Inkys 3rd Anniversary
Today were celebrating Inkys birthday and so are other 300,000 design enthusiasts that joined them in the last 3 years.
Giveaways
When you get a new idea, you usually get very excited about it and you'd like nothing more than to jump right into developing it. Still, you should pace yourself and go through some preliminary steps that will get your project off the ground. In order to achieve this, you need to make it attractive and convince others that it's a great idea and that it's worth investing into. The best way to showcase your future project is by creating a wireframe. A wireframe will help you visualize your idea, present a concept and involve other people early in the development process. It will let you to see the layout and the functionality of your application and think things through before going on with the project.
Pidoco is a web-based prototyping software that will provide you with the tools you need in order to create your wireframe or UI prototype for web or mobile applications. This software is very easy to use and the best part is they're giving away 5 free one-year Premium licenses for their application right now.
Giveaways
Sponsored
Gridgum is a marketplace that seeks to provide the best responsive themes available. For a developer, Gridgum is a great place to sell your themes. As a customer you can find a great variety of responsive themes, some of them including an installation and setup package to help you get going.
Browsing through this marketplace's galleries you will find templates developed with a wide variety of frameworks such as Bootstrap, Foundation or Skeleton. If you're shopping for your new website, Gridgum provides Bootstrap and Wordpress themes, as well as Admin Panels.
In order to constantly keep the wide range of responsive themes they offer, Gridgum is always looking for the best developers. Therefore, the marketplace is now hosting the Mammoth June $2000 giveaway.  All you have to do is submit your theme by June 30th 2014 in order to participate in the giveaway and have the chance to win one of the prizes.
Giveaways
WordPress themes have evolved a lot in the last years and from simple theme that served only one purpose to multipurpose themes that solve a lot of problems a website owner could have.
In this all too competitive market of WordPress themes, if you are in the position of choosing one theme over another, you are facing a difficult task because there are a lot of possibilities.
However, not all themes are the same. Some offer more features than other, focusing on functionality and style, making sure that the websites customized with them offer the best visual style and user experience to their visitors.
A theme like the ones I've been talking about so far is Theme X, a responsive and amazingly customizable WordPress theme.
Giveaways
High standard solutions have always been a common thing at ElegantThemes.com. With more than 200 thousand satisfied customers so far and a long history in this field it is the best source for top quality themes. These products have delighted the WordPress community and other media users as well. If you are looking for a…