Graphic Design
Graphic design is such an engrossing topic because it requires an enormous amount of time and practice to learn. This is similar with web development, but coding is often seen as more logical and straightforward. Design has structured guidelines, but it is much more of an art than a science. You should learn these basic guidelines and understand why certain graphics or colors work together before starting to breaking those rules.
If you have passion and perseverance then nothing can truly stop you from becoming a great designer. The first step is to recognize how the process works and where your energy needs to be focused. I want to share my thoughts about graphic design for website layouts and offer a few bits of advice for anyone interested in the field.
Graphic Design
Modern CSS trends have blown up so quickly that it can be difficult to keep up with all the new stuff. Online projects which most surprise me involve pure CSS designs for layouts, animations, and icons. There is still plenty of use for icon sprite sheets in the right context. But why not try out modern trends for the users who have upgraded from legacy browsers?
This gallery includes fifty examples of my favorite CSS-based icon designs. Some are animated while others are static interface pieces. These range from general purpose icon sets to character designs created purely within HTML/CSS code. The latter doesn't have much practical use but it's definitely a way of showing off your skillset.
Graphic Design
Resources
About Inky Deals
Inky Deals is one of the leading deals websites in the design community, with an extended family of more than 300,000 design enthusiasts. It's the place to go if you want to buy premium resources at unbeatable prices, whether you're a graphic or web designer, developer, or business owner looking to improve yourself and your work. They're the only ones who offer a 200% money back guarantee on every product. This means that if you're not happy with it, you get your money back and you also get to keep the product.
Testimonials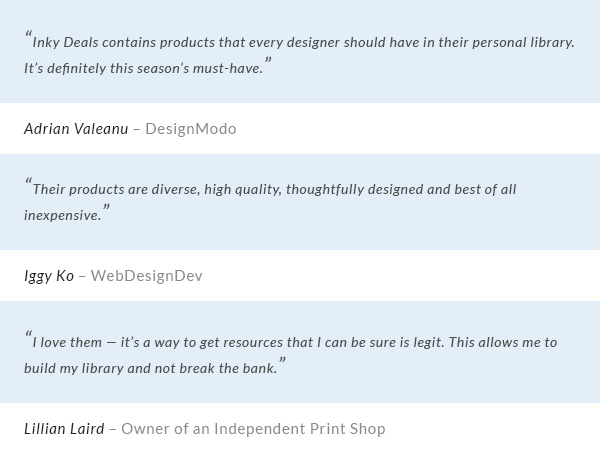 Graphic Design
Concept artwork is typically related to video game design. But it can also be very useful in other forms of media. There are many Hollywood movies, TV shows, video advertisements, and other projects which often hire concept artists. CG is typically thought of as 2D art while CGI is usually computer generated 3D effects.
This gallery focuses around 40 examples of CG concept artwork. Most of this artwork was created by hand in software like Adobe Photoshop or Illustrator. The purpose is to create vibrant characters, worlds, items, and landscapes which can be depicted within the project. If you love concept artwork or might just be curious to see what it is, take a glimpse over these examples.
Graphic Design
Resources
As the weather chills across the US we have been hard a work on some new products over at DesignM.ag headquarters. We have put together the first of a series of new products we plan to offer over the next year. The first kit is The Designer Survival Kit. We built this kit with the idea of having everything you need for your next web design project. For $39 we will help you cut time and increase the quality of your work. It's an instant download and it comes complete with .jpg previews of all ui elemtents, .ai files for all icons and hovers, and .psds.