design
Inspiration
Resources
Web Design
A year ago, finding a blogging platform that focused on blogging was impossible. Even content creation platforms that advertised as having an easy set-up and were specifically for bloggers seemed to focus mostly on the creation of the layout of a blog. For instance, WordPress has some amazing news and magazine themes, but it certainly isn't a quick set-up. Tumblr themes are a bit simpler but still come with some bells and whistles that many found annoying. Bloggers just wanted to be able to quickly set up a simple but professionally designed blog and start publishing.
John O'Nolan was one such blogger who became frustrated enough with the situation that he hired Hannah Wolfe as lead developer, received funding through Kickstarter, and created a simple blogging platform called Ghost. With so many supporters due to blogging platform ire already, Ghost quickly received the funding it needed to launch on 14 October 2013. The other good news is that there are themes for more than just writers. Portfolio ghost themes are also emerging.
So, if you are a blogger or a designer looking to set up a simple blogging or even portfolio platform, Ghost is one platform that brings content back to the forefront on the web. In fact, below is a list of 30 of our favorite ghost themes so far. All are very elegant and, most importantly, provide a clean layout to help your content shine.
Resources
If they could choose, web designers would rather focus on the aesthetics. As well as looking gorgeous, the end result should be compatible across browsers, fast loading and user friendly. It is for this reason that it is a good idea to convert photo shop mockups of designs via a trusted PSD to HTML service,…
Resources
HTML5 and CSS3 web development has pushed the boundaries of what is possible online. Modern browsers have also jumped aboard the bandwagon to support a multitude of these newer effects. As a designer I have been amazed to find crazy CSS-based projects online. Open source is driving the future of websites and how we design layouts.
In this gallery you'll find 28 brilliant samples of CSS-only codes. Each of these snippets are free to download or copy into your own project. As the name suggests you won't need to rely on JavaScript at all – even for complex stuff like animations! Take a peek at these examples and see if you can utilize any of the code in future work.
Graphic Design
Resources
About Inky Deals
Inky Deals is one of the leading deals websites in the design community, with an extended family of more than 300,000 design enthusiasts. It's the place to go if you want to buy premium resources at unbeatable prices, whether you're a graphic or web designer, developer, or business owner looking to improve yourself and your work. They're the only ones who offer a 200% money back guarantee on every product. This means that if you're not happy with it, you get your money back and you also get to keep the product.
Testimonials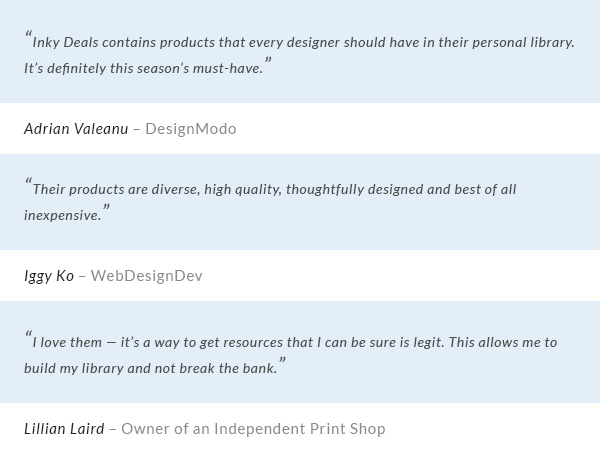 Resources
Over the past few years a number of prominent CSS3 tutorials have been published online. These are perfect for beginners who don't have a lot of experience coding webpages. But developers who do have that experience may also find the more detailed articles quite insightful.
Take a look over this collection of posts related to newer CSS3 properties. There may be some you're already familiar with, and others that you've never even heard about before. CSS3 provides developers with many different solutions used to solve individual problems. Also if you know any other great posts I've forgotten you can share with us in the post discussion area.