26 fantastic iPhone & Android apps for managing your website
Thanks to smartphones, you no longer have to be sitting in front of your computer to upload, manage, publish and monitor your website. We've brought together a collection of applications for both iPhone and Android users.
WordPress
If you have a WordPress website, then you can manage comments, upload images, and write, publish and edit posts all from your phone. Both these apps are free and are offered by WordPress.org.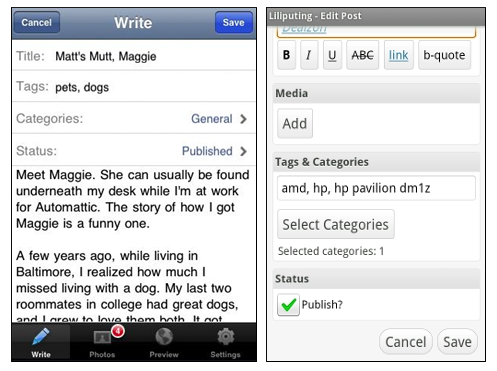 Left: WordPress for iOS. Right: WordPress for Android
Using the iPhone version, you can also take advantage of location sharing to give your blog posts added context, whilst the Android version is great for smaller screens.
iPhone: WordPress for iOS
Android: WordPress for Android
Google Analytics
Keep an eye on your web stats out of the office with Google Analytics apps on your phone. There are several options for both iPhone and Android users, so depending on how committed you are, you can opt for a free or paid app.
Left: Analytics App for iPhone. Right: Droid Analytics
iPhone: Analytics App. At $6.99, it's not the cheapest, but it is very comprehensive. If you're looking for a free option, try Blast's Google Analytics app.
Android: Droid Analytics is one of the most popular choices and is just $0.99 (a free trial is also available). Mobile GA is worth considering if you're looking for a free option.
FTP
Create, upload, download and edit your website's files can be done for free with these useful FTP applications. There are some great free options out there, although the paid FTP On The Go is also a popular choice.
Left: FTPVIewApp for iPhone. Right: AndFTP for Android
iPhone: FTPViewApp (free), or FTP On The Go ($6.99).
Android: AndFTP (free).
HTML editors
Create and edit your HTML quickly and easily with these editors.
Left: myHTML for iPhone. Right: SilverEdit for Android
iPhone: iDoWebEdit or myHTML (both $0.99)
Android: SilverEdit (free)
Bookmarking
If you've got a Delicious account, managing and adding your bookmarks is straightforward with a couple of great apps – or alternatively the Delicious mobile website.  The apps feature more functionality options, but if you have limited space then you may want to opt for just the mobile site.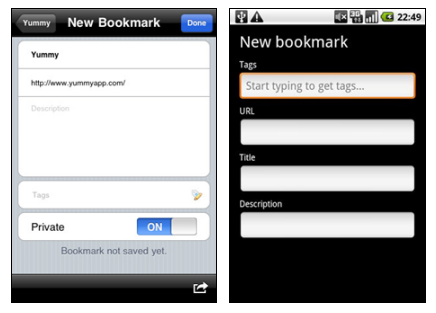 Left: Yummy for iPhone. Right: Android.icio.us for Android
Alternatively, you can use the mobile version of Delicious, although it's fairly limited.
iPhone: Yummy ($1.99)
Android: Android.icio.us (free)
WHOIS
You can quickly check the ownership and contact details of a domain with one of these straightforward WHOIS apps: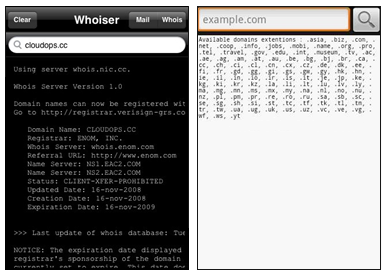 Left: Whoiser for iPhone. Right: Whois for Android
They aren't packed with features, but they do the job quickly and simply. If you deal with domain names on a regular basis, then this could save you plenty of time.
iPhone: Whoiser ($0.99).
Android: Whois (free).
Server Uptime
Monitor your server uptime and downtime using these handy apps. Montastic uses visual red and green icons to assess your servers, whilst Pingdom makes use of graphs and charts.
Left: Montastic for Android. Right: Pingdom for iPhone
iPhone: Pingdom for iPhone (you'll need a Pingdom account).
Android: Montastic Widget (you'll need a Montastic account).
Web Browsers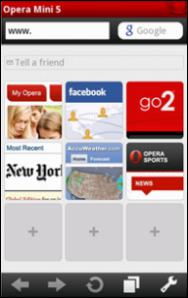 Opera Mini homescreen
iPhone: Opera Mini is a good alternative to Safari, as is Perfect Browser, which handily supports multiple tabs.
Android: Opera Mini is also available on Android, and has the benefit of lightweight browsing and homepage bookmark links. The highly regarded Dolphin Browser supports tabs and also boasts a range of optional add-ons for additional functionality.
Online File Management
Dropbox is a great tool for uploading, downloading, sharing and syncing files online. Happily, there's a Dropbox app for both Android and iPhone users so you can access client files, documents from your office computer, projects in progress and much more via your phone. Alternatively, a great tool for fileshare is YouSendIt.
Dropbox application
You'll need a Dropbox account, but it's free to sign up.
iPhone: Dropbox for iPhone
Android: Dropbox for Android
Code Cheat Sheets
Don't trawl the internet looking for that elusive bit of code – keep this CSS cheat sheet on your phone. Both the iPhone and Android versions are $0.99, and HTML, JavaScript and PHP versions are also available from the same developer.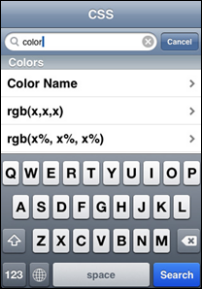 iPhone: CSS Cheat Sheat for iPhone
Android: CSS Cheat Sheet for Android
This guest post is by Jonathan Brealey, the director and co-founder of Heart Internet, a webhosting company.