Vector design is the perfect way to jazz up a bland or simplistic layout. Nowadays designers can export SVG icons which naturally expand or animate for unique visual effects. Connecting a branded vector character into your company logo is a memorable way to capture attention. It certainly works for these websites!
Below you can find a number of excellent vector-based icons blended into typical website layouts. This is a solid collection of websites to understand how other designers create these effects. You might try designing your own Illustrator vectors for the web and see how they can improve overall visitor interactivity.
About Inky Deals
Inky Deals is one of the leading deals websites in the design community, with an extended family of more than 300,000 design enthusiasts. It's the place to go if you want to buy premium resources at unbeatable prices, whether you're a graphic or web designer, developer, or business owner looking to improve yourself and your work. They're the only ones who offer a 200% money back guarantee on every product. This means that if you're not happy with it, you get your money back and you also get to keep the product.
Testimonials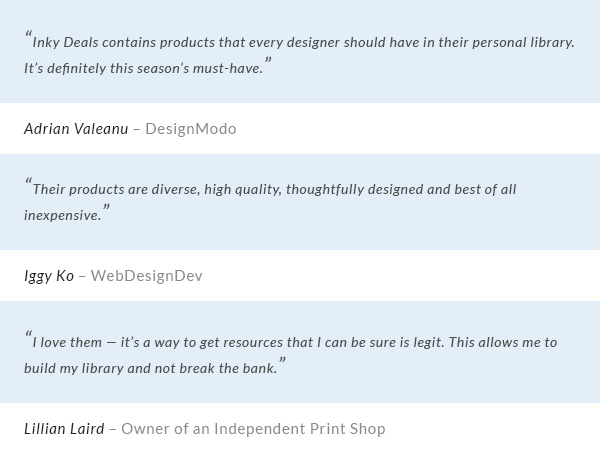 Concept artwork is typically related to video game design. But it can also be very useful in other forms of media. There are many Hollywood movies, TV shows, video advertisements, and other projects which often hire concept artists. CG is typically thought of as 2D art while CGI is usually computer generated 3D effects.
This gallery focuses around 40 examples of CG concept artwork. Most of this artwork was created by hand in software like Adobe Photoshop or Illustrator. The purpose is to create vibrant characters, worlds, items, and landscapes which can be depicted within the project. If you love concept artwork or might just be curious to see what it is, take a glimpse over these examples.