About Inky Deals
Inky Deals is one of the leading deals websites in the design community, with an extended family of more than 300,000 design enthusiasts. It's the place to go if you want to buy premium resources at unbeatable prices, whether you're a graphic or web designer, developer, or business owner looking to improve yourself and your work. They're the only ones who offer a 200% money back guarantee on every product. This means that if you're not happy with it, you get your money back and you also get to keep the product.
Testimonials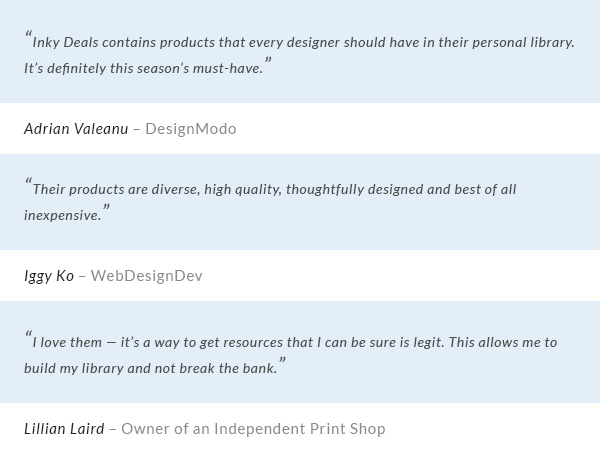 A good piece of art always contains the aspect of attraction, which provides the initial prompt of glances from potential onlookers. But a great piece of art is able to capture and compel their gaze to linger for that extra span of time. Every true artist shoots to achieve this secondary level of interest, but few know the techniques to use to create that deeper level of interest. Adding texture to various aspects of your designs is an easy way to do this quickly and effectively through the use of Photoshop brushes and patterns.
So we've put together a list of more than 30 brushes and patterns that you can add to your text, backgrounds, or other digital art layers in your composition to add interest and intrigue to your designs. And when your goal is to stand out, what works better than to use abstract designs?
Check It Out! Our 30+ Top Freebies for Abstract Brushes and Patterns
Make your designs "pop" with this Dot Splatter Brush